Outdoor available pH/EC meter


PCE-11M
Water quality monitor

It is a pH/EC meter that can measure pH and EC with 1 unit. Best suited to nutrient solution control and drainage monitoring.
Advantages
・pH and EC (electrical conductivity) can be measured with 1 unit.
・Provided with transmission output to a computer or recorder as standard specifications.
・Indication with liquid crystal display with backlight that can be easily seen in daytime and at night.
・pH can be calibrated by one-touch operation. The meter provides further convenience for use.
・Power supply can be chosen between AC100V and 200V.
・A sunshade cover is included as a standard accessory.
・The case for measuring apparatus is made of AES resin that has excellent weatherability,
 and the protection grade of waterproof construction when fitted with the sunshade cover is IP54 or
 equivalent that enables outdoor use.
・The EC (electrical conductivity) sensor has employed the 5-electrode method that is resistant to dirt.
 Stable measurement can be made even at high concentration.
・The apparatus main body can be fixed by means of a panel/pole attachment tool
 (the attachment tool is an optional item).
Applications
・Nutrient solution control in a plant factory.
・Nutrient solution control in hydroponics (a hydroponic greenhouse).
・Drainage monitoring in hydroponics (a hydroponic greenhouse).
Specifications
Type
PCE-11M
Range of measurement

EC:0 - 10.00mS/cm pH:0 - 14.00pH Temperature: 0 - 50ºC

Display
LCD (with backlight)
Resolution

EC:0.01mS/cm pH:0.01pH

Control output
None
Transmission output
EC, pH DC4 - 20 mA (maximum load resistance: 500Ω insulation) No temperature output

Temperature compensation

EC: Temperature compensation range 0 - 50℃

pH: Temperature compensation range 0 - 100℃

Ambient temperature

0-45℃

Power supply

AC 100/200±10% Single phase 50/60Hz

Dimensions

138(W)×138(H)×174(D)

Weight

About 2 kg

Optional items

pH sensor, EC sensor, pole attachment tool, panel attachment tool
Electrode Specifications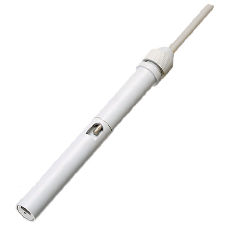 | | |
| --- | --- |
| Type | CES-10 |
| Construction | Throw-in type |
| sample temperature | 0~50℃ |
| Material of connection part | Electrode: titanium Case: PVC |
| Lead length | 10m(standard) |
Outline drawing
Relevant products