High concentration conductivity adjustor


CEH-21
A standard unit having the functions for the measurement of high-concentration conductivity and for control output.

The easy-to-see and large LCD with backlight indicates

the EC measurement value,

control point, control direction, whether control is done or not, current value,

and temperature.
Advantages
・Large LCD indication with backlight.
・Provided with the scaling functions of DC4 - 20mA in transmission output, connection can be made to
 a wide range of external equipment.
・Provided with ON/OFF control and twin timer control, the meter is fit for control in various places.
・With a built-in 24-hour timer. Irrespective of the conductivity, ON time and OFF time settings and
 control of the number of times can be made, thereby capable of being utilized in various applications.
・Having a built-in zone alarm interconnected with conductivity, an out-of-range alarm is output
 as an output at one point.
・The meter has 2 ranges of conductivity measurement: 2000μS/cm and 20.00mS/cm, and a switching
 between /cm and /m can also be made.
・As for the electrode, the alternating current 5-electrode method is employed that is resistant to
 dirt and involves little measurement error.
・Titanium is used for the detection electrode, and PVC is used as the body material,
 thus having excellent corrosion resistance.
・The power supply is designed to work at any voltage between AC100 and 240V.
・The outline is compact, with the dimensions of 96W×96H×145D. (DIN96)
Applications
・Nutrient solution control in a plant factory.
・Nutrient solution measurement and control in hydroponics (a hydroponic greenhouse).
・Replenishing water control for a cooling tower.
Specifications
Name
High concentration conductivity adjustor

Type

CEH-21
Method of measurement
Alternating current 5-electrode method
Range of measurement

Conductivity range

0 - 20.00mS/cm, 0 - 2000μS/cm Manual switching

/cm, /m Switchable

Conversion at the reference temperature 25℃

Temperature compensation

Temperature compensation range: 0 - 50℃ Temperature accuracy: ±1℃

Temperature element Pt1000Ω

Temperature compensation coefficient Automatic: 2%/℃ Manual: 0.5-5%/℃

Resolution

EC:0.01mS/cm, 1μS/cm

Transmission output
DC4 - 20mA(maximum load: 500Ω) With scaling functions
External input
No voltage contact input 2 points
Control method

ON/OFF control

Twin timer control ON time: 599sec OFF time: 599sec

24Hr timer interlock ON time/OFF time, Number of times(within 24 hours)

Setting method

Conductivity interlock(ON/OFF control, twin timer control)

24Hr timer interlock ON time/OFF time, Number of times(within 24 hours)

Conductivity interlock zone alarm

Above to be chosen for each pump

Control output
No voltage contact output AC 240V 3A 2 points
Power supply
AC100~240V
Operating environment
0 - 40℃ 85%RH or less
Outer dimensions
96(W)×96(H)×145(D) mm
Weight
About 1.0kg
Standard accessories
Main body attachment tool, front cover
Optional item
FCS-75N
Electrode Specifications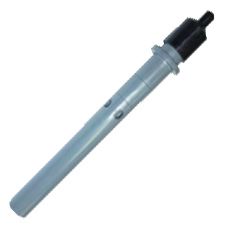 | | |
| --- | --- |
| Name | EC electrode |
| Type | FCS-75N |
| Cell constant | 1.0(at standard) |
| Material | Detection electrode:Ti Body:PVC |
| Lead length | 10m |
Outline drawing
Relevant products