Excellent corrosion resistance, compact


self-contained corrosion-resistant resin pump "CEMPUM ACE"
High corrosion resistance is achieved by using polypropylene containing carbon fibers.

This self-aspirating spiral pump is lightweight, compact, and has high corrosion resistance and excellent durability.
Advantages
・A splash prevention plate prevents the motor from entering even when the mechanical seal leaks.
・Use of new materials for casings and excellent corrosion resistance!
・A compact design requires less installation space.
・Low-noise motors and quieter operation sounds.
・Replacement of the mechanical seal is also easy and maintenance is necessary.
Excellence in self-respiration performance
Despite its compact body, it exhibits excellent self-respiration capabilities.
Note: For self-breathing at 5 m, atmospheric pressure is the condition.

[Capability]

・At 50 Hz
Discharge: 120 L/min
Head: 8m

・At 60 Hz
Discharge: 110 L/min
Head: 10 m
High corrosion resistance/long life
The pumping section uses CFRPP and GFRPP, the motor shaft is made of SUS316, and the inner screws are made of titanium, SUS316, and other materials, making it highly corrosion resistant.
It can be used in a wide range of fields, including fresh water, sea water, and some chemical solutions.
*High corrosion resistant body

・Pump section made of corrosion-resistant material
・Motor fan cover made of resin
・The pump base is PVC-coated.
Economic
At present, FC pumps have a short life and a short replacement time due to rust generation.
Since CEMPUM ACE is made of resin, it is easy to disassemble, assemble, and maintain without rusting.

Safety design
Even if fluid leaks during the life of the mechanical seal, which is a consumable, the splash prevention plate is equipped as standard, so it does not splash on the motor side and protects it from electrical leakage.In addition, the motor shaft is equipped with a drainage ring, which can be double-sided.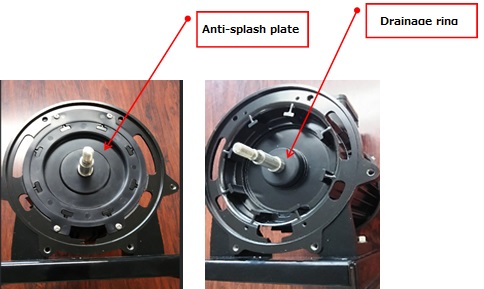 | | | |
| --- | --- | --- |
| In the event of a motor overload, a protective device works to prevent the motor from burning, making the design safe. | | |
Example of introduction
Bag filter unit using Cempum Ace
The filtration capacity is 5 m3/hr.It is compact and is suitable for incorporation into various unit products.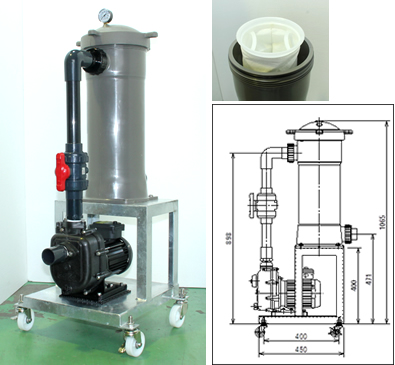 Applications
・To the water treatment plant equipment.
・Transfer of seawater related to fisheries.
・Incorporation of surface treatment-related equipment.
・It is also suitable for use in corrosive liquids and atmospheres.
Specifications
Model
CSP-40-50.4T
CSP-40-60.4T
Diameter (mm)
40
Frequency (Hz)
50
60
Voltage (V)
Three-phase 200
Rated output (W)
400
Maximum discharge (L/min)
120
110
Maximum lifting height (mH)
8
10
Mass (Kg)
11.0
Liquid temperature
0~40
Wetted materials
Handling liquid
Liquid quality
Fresh water, chemical solutions, and sea water

Pump section

Structure
Impeller
Semi-open
Shaft seal
Mechanical seal
Wetted materials
Impeller
GFRPP
Casing
CFRPP
Casing cover
CFRPP
Mechanical seal
Ceramic×Carbon
Shaft
SUS316
Internal screws
SUS316/Titanium
Packing
EPDM
Splash prevention cover
PP
Motor
Full-closed fan outdoors
Linear motion
Catalogue
Relevant