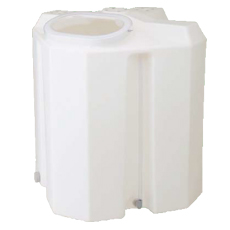 ※ Currently, only black is sold.
Bottom cross baffle to increase stirring efficiency. The baffle effect at the bottom assists the stirring effect of the stirrer, and the power down also helps save energy.
・ Industry's first new design in which mixers are installed directly
・ Excellent stirring efficiency is achieved by making the bottom part baffle-shaped.
・ It can also be used as a reaction tank or a chemical tank.