Salinity concentration meter


CM-81S
This unit can measure the salt concentration and control the pump, etc.

The pump can be controlled by inputting an arbitrary set value.
Advantages
・

The measured salinity is displayed on a large LCD display.
・The LCD with a large backlight displays the measured salt concentration, liquid temperature,
lower limit set value, and output status.
・The presence or absence of control can be controlled by an external input signal.
・Alarm setting values can be easily changed and measured density values can be easily corrected.
・The power supply is free from AC100 to 240V.
Applications
・Management of salt concentration in the cultivation of seaweed.
・Charvet ice salinity control.
・Management of salt concentration in plant cultivation.
・Management of salt concentration in washing water and ice making in the fishery industry.
・Measurement of salt concentration in soil.
・Control of salt concentration of washing water in food processing.
Specifications
Name
Salinity meter
Type
CM-81S
Display
Digital LCD/Touch Panel Adjusts the Brightness of Backlight LED

Measuring range

0.10~20.00%
Resolution
Salt concentration: 0.01% temperature: 0.1℃
Correction of measured values
Measurement value shift (shift range-1.00% to +1.00%)
External inputting

One point of the no-voltage contact signal

When ON, the control output selected to be ON is interlocked on the interlock setting screen, and the control output selected to be OFF on the interlock setting screen is normal operation.

Normal control when OFF.

Warning contact output

Two-point control method: ON/OFF control hysteresis width 0.01% to F.S.%~F.S

Contact capacitance AC240V1A or less (resistive loading)

Voltage output

Control method: ON/OFF control hysteresis width 0.01% to F.S.
Upper and lower limit alarm output 1 point (voltage output): Power supply voltage output


Motor load current 0.5 A (AC200V)/1.0 A (AC100V)

Pulses output

Control method: Pulse proportional control (open collector)

Transmission output

Input/output insulation maximum load resistance 500Ω DC 4 to 20mA

Operating environment

Between 0℃ and 40℃ within 85% RH

Power

AC100~240V 50/60pHz

Power consumption
10 VA (no load)
Protective structure
Equivalent to drip-proof IP54 (when using sunshade covers)
Dimensioned
138(W)×138(H)×174(D) mm
Weight
About 2 kg
Standard accessories
Sunshade cover
Sensor specifications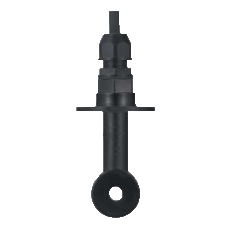 | | |
| --- | --- |
| Type | MCS-10 |
| Sample | 0~70℃ |
| Material | Electrode: PPS Cable: PVC |
| Lead | 10 m (standard) |
Catalogue
Relevant