Fluorescent Dissolved Oxygen Handy Meter


DO-02
Fluorescent dissolved oxygen meter is compact and ease to use.

The fluorescent type which maintenance is easier than the conventional type.

Adopted LCD for the large backlight, and easy-to-read.

Automatic temperature compensation and Pressure compensation are available.
Advantages
・Dissolved oxygen meter which is adopted fluorescent sensor.
・Automatic temperature compensation, Automatic pressure compensation and manual salinity compensation are available.
・Electrode life is 8000 hours, Achieved stable measurement and cost performance.
・The automatic hold function of measurement value and the automatic power off function are equipped.
・Waterproof specification meter, which is equivalent the ip57.
・The meter has dedicated case for convenience carry.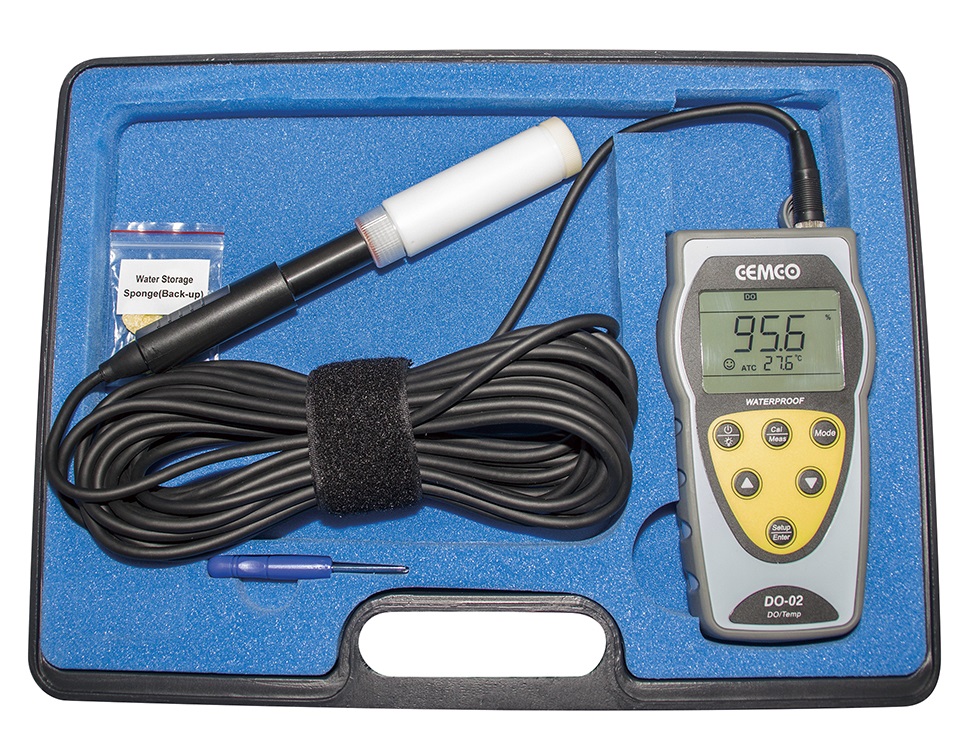 DO-02 Storage examples
Applications
・Measure the sewage water and factory wastage.
・Manage the nourishing solution for plant factory.
・Manage the fish tank water quality of Aquarium.
・Survey the water quality of rivers and lakes.
・Indicators of environmental standards.
Specifications
Type
DO-02
Dissolved Oxygen
Measurement range
(0-20.00)mg/L(ppm)、(0-200.0)%
Resolving power
0.01/0.1mg/L(ppm)、0.1/1%
Measurement accuracy

±2% measurement value or ±2% saturation, whichever is greater

±2% measurement value or ±2mg/L, whichever is greater

Response time
≤30s(25℃,90℃ Response)
Calibration points
The saturation 100% sample and 0% sample of dissolved oxygen
Temperature compensation
Automatic (0~50.0) ppt
Pressure compensation
Automatic (60~120)kPa
Salinity compensation
Manual (0~50.0) ppt
Temperature
Measurement range
(0~50.0)℃
Resolving power
0.1℃
Measurement accuracy
±0.5℃
Other
Power supply
Size AA Battery x3pcs (1.5Vx3)
IP Grade
Waterproof specification meter, which is equivalent of ip57.
Size and Weight

Mani unit:(88×170×33)mm/313g

Dedicated case:(360×270×76)mm/1.3kg

Other
RoHs、CE and ISO9001:2008
Catalogue
Relevant